Genia & Arnas (Ukraine / Lithuania)
Although Genia has been dancing since she was six years old, she discovered her love for Lindy Hop in 2006. Blues, Boogie-Woogie and other dance styles have kept the learning process exciting ever since.  Genia has taught in Ukraine, Russia, Belarus, Poland, Lithuania, France, Belgium, Taiwan and won an array of competitions across Europe between 2012 and 2019. Since 2015, Genia has been a part of the Shiny Stockings Chorus Line in Kiev.  Dancing is an important part of her life. This attitude makes her not only a talented and dedicated dancer, but also a responsible and attentive teacher.  Her classes are concentrated on how to connect your dance more with the music and how to enjoy your dancing more.
Arnas is one of the top dancers of the thriving Lithuanian swing scene. His original approach to dance will add to the knowledge of a dancer of any level. Arnas ideas are based on concepts of body movement, rhythms and authenticity of both the dance and the dancer. With his dance technique and teaching methods in the background Arnas turns the classroom into an effective workshop and gives students ideas for future training. His long training in music makes his dancing a creative musical experience. And his playful personality will surprise and cheer you on the social dance floor.
Dara and Jenna (Scotland / USA)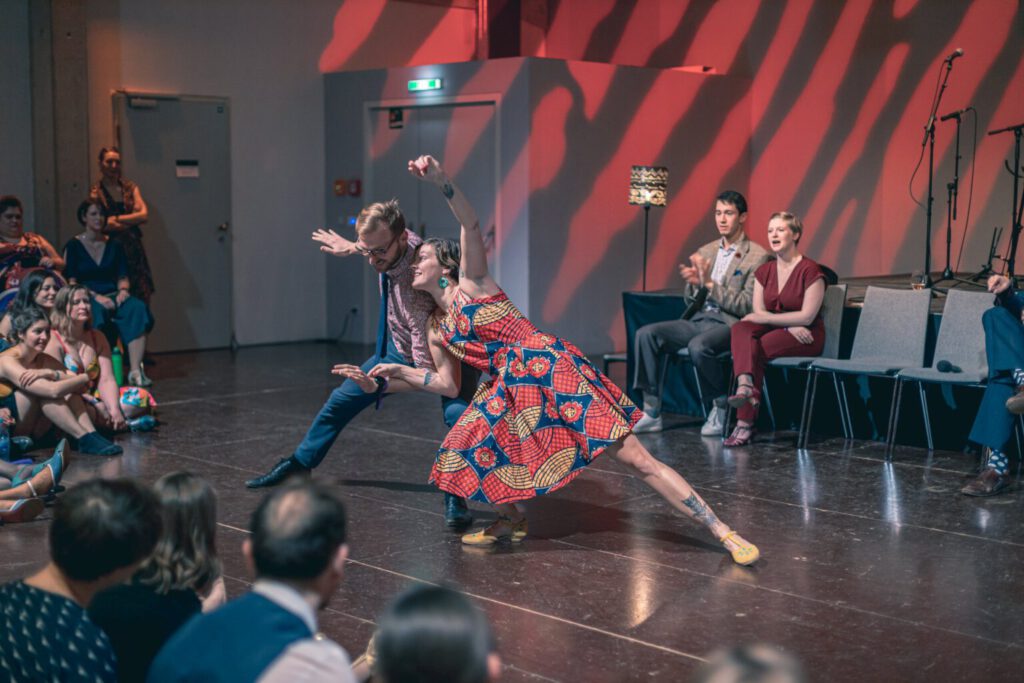 Dara´s love of dancing started with moving to the latin rhythms growing up in the Caribbean, but he fell in love with Lindy Hop in the frozen north of Scotland, in 2009, and fell in love again with Blues at a workshop just 6 months later. Dara has been teaching Lindy Hop and Blues since 2011 and lived out of a suitcase as a travelling man for 5 years; moving between scenes, teaching and DJing workshops around Europe. Dara teaches Blues Dance, Lindy Hop, Authentic Jazz, blues DJing and blues history both in his home scene in Valencia, Spain; and at international blues events.
Jenna found swing dancing in 2004 in her small local scene of Wenatchee WA. Since then she has spent countless hours expanding her dancing repertoire and sharing her love and knowledge of these dances with others. Her energy and passion create the perfect environment for learning. Jenna has attended, coordinated, and taught various workshops and exchanges all across the globe.. With over 15 years of teaching/coaching/training experience, she loves finding new ways to connect with other dancers on the floor and in the classroom and to create challenging yet applicable lessons in the classroom.